As part of our continual focus on the greening of our supply chain, we have partnered with Koppert Biological Systems, to actively promote the natural control of pests and diseases.
This will allow us to offer a high quality range of biological control solutions for pest control in ornamental crops, which therefore complements our growing media range.
Larvanem and Entonem
Larvanem and Entonem are parasitic nematodes to tackle the larvae as well as pupae of the black vine weevil (Otiorhynchus sulcatus).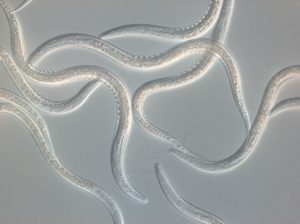 Advantages of Koppert
Highly effective (up to 100%)
Year round control
Ease of application
Compatible with natural enemies and also most pesticides
Highly mobile forms of nematodes
Mode of action
Post application, the parasitic nematodes actively hunt for the larvae and subsequently then penetrates them.
The nematodes then feed on the contents of the larvae, resulting in them releasing certain bacteria from their intestinal tract.
These bacteria convert the host's tissue into substances that the nematodes can easily absorb. Consequently, the larvae die within a few days. The choice between Entonem (below 14OC) and Larvanem (above 14oC) is based on compost temperature.
Pack size: 50 and 500 million
TRANSFORMER
A soil conditioner that improves the infiltration and distribution of beneficial nematodes throughout the soil or substrate.
Improved infiltration of Koppert nematodes
Widely used in agriculture and horticulture
Fully tested to improve efficiency of nematode applications
Improves lateral water distribution in soil and substrate
Favours the initiation and development of new roots and diverse microbial population
Effective on all growing media and soils
HORIVER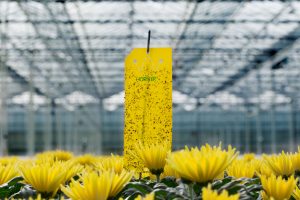 Horiver sticky traps are well-known for their excellent quality. The sticky-trap sheets retain their adhesive power under all conditions and the adhesive does not drip, even at very high temperatures.
Sticky traps are essential in the detection and partial elimination of many species of flying pests in greenhouses. Sticky traps make it possible to detect pests at an early stage and then use biological measures to combat them. This prevents unnecessary applications of chemicals.
Counting the captured insects on the sticky traps on a regular basis makes clear when pests are present in the crop, how fast their population is developing, and when their population is likely to reach its peak. In this way growers are much better prepared for potential threats.
Yellow traps: Aphids, Leaf-miners, Whiteflies, Thrips & Sciarids.
Blue traps: Thrips
ROLLERTRAPS
Available in a yellow or blue sticky PE ribbon. Use Rollertraps to trap white fly, leaf-miner, aphid, thrips and fungus gnats in spots with a great pest pressure, or areas in the crops, where a high pest pressure is expected, for example along gables, ventilation windows and other draughty places.
Pests are attracted to the yellow or blue colour of the sticky ribbon and get caught in the glue.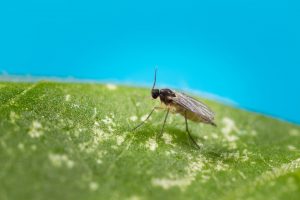 VIDI PARVA
A 100% natural plant based biostimulant manufactured using cold pressed seaweed extracts (Ascophyllum nodosum). Vidi Parva stimulates root growth and improves root initiation, therefore providing an ideal basis for a strong and healthy crop. It also promotes the development of diseases, suppressing bacteria around the roots.
Vidi Parva stimulates the formation of root hairs, which release exudates to create and maintain the rhizosphere micro-biology. The product also ensures the development of a compact and resilient plant to support proactive crop balance.
When to use Vidi Parva:
• Stimulate root and initial plant growth
• Establish and sustain microbial activity, including disease suppressing microbes
• Increase nutrient uptake
• Increase dry matter content in crop
• Generative steering
• Natural high levels of Tryptophan, an essential amino acid in the triggering of natural auxin production
Application: Drench, Foliar, Fog or drip.
VIDI FUNDA
Vidi Funda is a natural and organic soil improver. The product contains a unique combination of amino-acids which support the development of a diverse soil population of beneficial microbes, especially fungi. By improving the overall soil health, as well as supplying plant-based organic nutrients, research and commercial applications have shown an increase in available nitrogen from mineralisation.
Following mineralisation, the plant can easily absorb the nutrients from the Vidi Funda, which reduces leaching.
When to use Vidi Funda
• Improve the availability of nutrients through mineralisation
• Increase soil/substrate fungi-bacteria and C:N ratios
• Establish and maintain a raised biomass weight of organisms within the substrate
• Re-build the soil/substrate life and vitality after destructive applications
• Promoting plant growth through rhizosphere environment, soil buffering capacity and the ability to withstand stress
Application:  Incorporation into substrate/soil, top dressing.
Details
Format & Sizing
| Format | Pack Size | Product Number |
| --- | --- | --- |
| Pack | Larvanem 10 x 250 Million | 80104522 |
| Pack | Larvanem 50 Million | 80104520 |
| Pack | Larvanem 500 Million | 80104525 |
| Pack | Entonem 50 Million | 80104610 |
| Pack | Entonem 500 Million | 80104660 |
| Pack | Entonem 10 x 250 Million | 80104613 |
| Pack | Horiver Sticky Traps Yellow Small | 80106820 |
| Pack | Horiver Sticky Traps Blue Small | 80106830 |
| Roll | Horiver Roller Traps 100m x 30cm Yellow | 80106890 |
| Roll | Horiver Roller Traps 100m x 30cm Blue | 80106860 |
| Roll | Horiver Roller Traps 100m x 15cm Yellow | 80106880 |
| Roll | Horiver Roller Traps 100m x 15cm Blue | 80106870 |
| Container | Vidi Parva 5L | 80114111 |
| Container | Vidi Parva 20L | 80115007 |
| Pack | Vidi Funda 20KG | 80114131 |
SALES & ENQUIRIES
Please contact us for more information and sales enquiries regarding this product.